Artist Statement:
I once spoke with an enthusiastic observer of my artwork while it was on gallery display recently, whose commentary seemed to coin a term that rang through my ear, summing it up in two words that lay roots in my brain: "Horror Pop." Not to be categorized or pigeon-holed, but I loved the term to say the least. As a "monster kid" of the late 70's and early 80's, I was constantly in awe of any imagery that was darkened by castle walls, spider webs, and misty graveyards at dawn. From the gothic splendor of the Universal monster movie era, to the hatchet wielding splatter fests of the pioneering slasher films. While other children looked upon the heroic iconic imagery of Superman's flowing cape, or a gun blasting G.I. Joe saving the globe, I was enamored by thoughts of the Frankenstein Monster versus the Wolfman in hand to paw combat, and the son of Ms. Voorhees hat tricking a trifecta of sinful camp counselors with one machete slice. Some of my fondest memories of my genre influence were gawking for hours at the beautifully tattered poster art on VHS box covers at the 80's mom and pop video stores, as I searched for which weekly rental of cinematic treasure I was allowed to take home, or the elementary school era ritual of curling up in front of the television every Saturday night with my popcorn and candy to spend two hours with Elvira, Mistress of the Dark, as she broadcasted two hours of B-movie schlock in between boob jokes. So with my artistic and creative endeavors, I naturally take all of this childhood revelry, and mix it up in a bowl along with today's more mainstream pop culture, and concoct the most adorably vile, gory gumbo this chef can cook. I paint as a mad scientist, capturing the entertainment icons of today, dragging them back in time, to the depths of my childhood laboratory, and re-animating them into a cheeky, bloody, horrorific creature of modern day….
The Dark Art of Mike Vanderhoof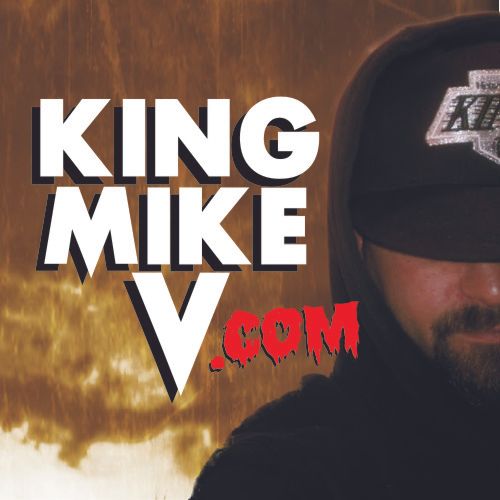 BIO
King Mike V's knuckles say it all, "DON"T STOP", encompassing a lifetime of determination and persistance in bringing his talents to showcase to the world. Having been involved in art since the age of 5, and utilizing all types of medium from charcoal to oil painting, from airbrush to sculpting, from spray cans to mask-making, it seemed that tattooing would one day also be a natural progression. King Mike V, also known as Mike Vanderhoof, began tattooing in 1992 and opened his own parlor, Dr. Package Tattoo in 2001. After a decade of decadence, and traveling nationwide on the tattoo convention circuit, boasting many trophies and magazine articles, Mike decided to close the doors of Dr. Package Tattoo in late 2010 to pursue his music career and other aspirations. King Mike V's music career began at the age of 17, co-founding the hip hop group "The Labrats" with his friend and fellow rhymer EMC (r.i.p.). The group disbanded early after cutting a self-titled EP with producer Cory Yothers of Bellmark / Featherstone. After a short hiatus, King Mike V moved on to a solo project which his then-manager was in talks with Capitol Records to release it. But in time, the deal fell through and King Mike V proceeded on once again. In 1997, Mike joined the rap/metal group "Dr. Package" as lead vocalist and frontman, bringing his hip hop roots along with him. Dr. Package released their debut album "Kings" to rave reviews, and also had a follow up EP entitled "Earthquake Weather". After playing live relentlessly at nearly every southern california rock venue, appearing on TV and even aired on KROQ, Dr. Package became a hugely popular local act. The band had a mutual break-up around 2002. At this point, King Mike V decided to get back to his hip hop foundation and built his first pre-production studio where he could focus on his new found love for beat-making. Along with friends, Melk $$$$, GS9, and DJ IMmackuliT, they formed the hip hop group "Word Assoc." The group recorded 3 albums together, the first was self-titled, followed by "This is War" and "The Awful Truth". As the project began to lose steam, King Mike V then teamed up with DJ IMmackuliT and released 2 more albums, "Our Finest Hour" and "Grindhouse". Mike is also a member of the international hip hop crew known as The CCC or "The Cross-Continent Crew", which is a worldwide hip hop alliance of lyricists, producers, and Dj's which has members all over Europe, The U.S., Canada, and South America. In September of 2010, King Mike V launched "The King Mike V Radio Show" an hour-long weekly internet radio program broadcasting worldwide, which aired every Saturday 3:30pm PST on www.cultradioagogo.com. The show, along with co-hosts Chuck U. Farlie and JD, gave a weekly platform to 2 of King Mike V's passions: horror films and underground hip hop. In addition, King Mike V is currently writing his first horror film screenplay, and continues to tattoo on the U.S. convention circuit and can also be found at periodic Horror Conventions promoting his art. So keep checking back here at KINGMIKEV.COM to see when King Mike V is coming to a city near you.